Our Vision
Children's Shine On Readings
Jesus is Risen  270
Jesus Appears to Mary Magdalen  272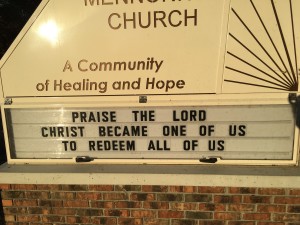 We Worship – a trinitarian God: Father, Son and Holy Spirit.
We Walk – in the way of Jesus, both Saviour and Lord.
We Witness – through the power and presence of the Holy Spirit.
Who Are We?
We are Christians (followers of Christ), and we are part of the family of faith that calls itself Anabaptist/Mennonite.
Three hallmarks of our faith:
Jesus is the centre of our faith. We claim him as Saviour and Lord. Just as God calls us to believe in Jesus for salvation by grace through faith, God calls us to follow Jesus.
Community is the centre of our life. Our life together in Christ as a faith community demonstrates God's intent for all people. Our common life and worship prepare us to be sent by God into the world to be witnesses.
Reconciliation is the centre of our work. In gratitude for the reconciliation God offers us through Jesus, we seek to extend healing and hope to our neighbours, our enemies and the broken world in which we live.